When I was a kid I remember "dippy eggs" – My Mom would cut toast into strips and we would dip the toast into an egg that was cooked long enough for the whites to cook through while leaving the yolk runny.  I loved them.  I will always remember calling them "dippy eggs" and laugh as I still call them that.  I'm hoping that my kids will grow up and one day remember the "egg-in-the-hole" (neither of them liked dippy eggs, boooooo!)  and love it still!
These are the eggs in the skillet cooking…  you can make them as runny or as hard as you'd like.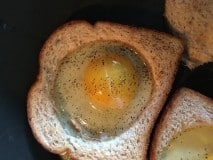 These are so simple – only 5 ingredients!  They make a filling breakfast and are easily adjustable to accommodate your veggie preferences.  I love this recipe and could truly eat these every morning!

Egg-in-the-Hole with Avocado and Tomatoes
Delicious and simple healthy breakfast!
Ingredients
2 eggs
2 pieces of whole grain bread
2 tsp. coconut oil
½ avocado
½ cup diced tomatoes
Himalayan Salt and pepper as needed
Instructions
Heat coconut oil in large skillet
Place bread into pan and coat with oil, then flip it over to coat other side
Cut a hole into center of bread by pressing a glass down into bread
Crack egg and gently lay into middle of bread
Cook for about 5-6 minutes until egg begins to cook through
Flip bread/egg over and cook on other side for about 5 minutes until egg yolks are cooked through
Cook egg yolk to preferred consistency
Place egg/toast onto plate and top with avocado and diced tomatoes
Add salt/pepper to taste