Pancakes – who doesn't love pancakes?  After years of making pancakes out of a box and dumping a bunch of maple syrup on them I knew I needed to make some serious changes in my recipe.  Anything in a cardboard box that I just need to "add water" to was most likely not very healthy.  lol  My kids love pancakes and were asking for them many mornings – so I really needed to clean up my pancake recipe, ditch the boxed junk, and eliminate the loads of syrup we used to dump on top.
After giving many healthier recipes a try I settled on this one for two reasons:  first, I am not one for many ingredients.  I like things simple.  And second, it doesn't have flour.  This simple banana pancake recipe is one your kids will love!  Add some chocolate chip morsels and you cannot go wrong!  The melted chocolate blends perfectly with the bananas giving it a delicious sweet taste.   You can sub out the bananas on top for any fruit you'd like… sometimes we use strawberries or blueberries.  For an extra protein punch smear some peanut butter on top!
These pancakes are very thin and it may take you a few tries to flip them just right:)  Enjoy!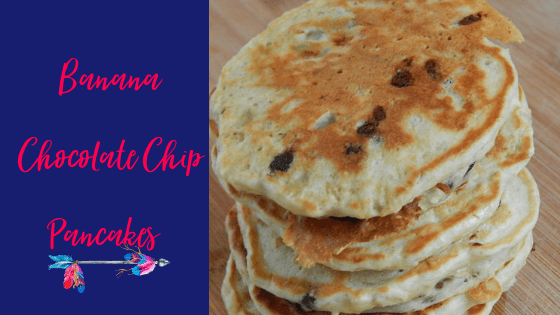 Banana Pancakes
Banana Pancakes - the healthier breakfast pancake!
Ingredients
1 egg
2 egg whites
¾ banana
¼ cup quick oats
1 tsp. vanilla
4-5 dark chocolate chip morsels
Instructions
Heat griddle to 300 degrees.
Add coconut oil to griddle to lightly coat.
Blend all ingredients, except the chocolate chips, in a blender until smooth.
Pour batter onto griddle in 4 inch diameter circles.
Drop chocolate chips into pancakes as soon as you pour them and before they begin to cook through.
Flip pancakes only once - be very careful when flipping, these cakes are very delicate!
Pull from griddle when golden brown.
Slice remainder banana and place on top of pancakes.
If you'd like, drizzle some raw honey on top for some additional sweetness