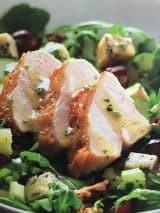 This salad is delicious and takes minimal time to make.  If you aren't an arugula person (I've just started liking it)  you can easily sub out the arugula for spinach or another leafy green.  The dressing is also delicious on any mixed veggie recipe!

Chicken, Cheese, and Arugula Salad - Comeback Fitness
Prep time:
Cook time:
Total time:
This simple salad tastes delicious and minutes to toss.
Ingredients
12 oz. boneless roast chicken sliced
5½ oz arugula leaves - sub in spinach if you aren't a fan of arugula
2 celery stalks, trimmed and sliced
2 scallions, trimmed and sliced
1 oz walnut pieces
4 oz Stilton Cheese, cubed - sub in goat cheese or fresh mozzarella cheese
½ cup seedless red grapes, sliced in half
Dressing:
2 tbsp. olive oil
1 tbsp. Dijon mustard
1 tbsp. sherry vinegar
1 tbsp. chopped mixed herbs
Instructions
Preheat oven 425 degrees
Lightly coat chicken with olive oil, salt and pepper
Bake chicken 40 minutes until juice runs clear
Arrange arugula, celery, grapes, walnuts, and scallions on plate
Place chicken and cheese to the top
Mix dressing well by placing all ingredients into a shake safe jar. Add dressing to salad