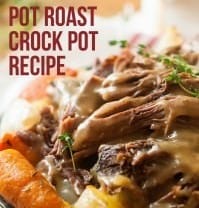 I used to always make my roast in the oven – I gave it a go in the crock and was surprised that it tasted exactly the same!  The meat is very moist and pulls apart very easily.  You can eliminate the potatoes if you'd like and make some mashed potatoes as a side.  Use the juice from your crock to make a gravy by whisking in some flour until your reach your desired consistency.  I sometimes add the carrots in with only about 30 minutes remaining to cook so they don't become mushy.
This is also a great recipe to use for roast beef sandwiches – simply eliminate the potatoes and carrots from the crock and only cook the roast and onions.  You can still make the carrots as a side, and put the beef over a flat-out or a piece of whole grain bread… smother in gravy and enjoy!
Hope you enjoy this as much as we do….

Crockpot Roast Beef
Prep time:
Cook time:
Total time:
Delicious - the meat just pulls apart...
Ingredients
• 2 to 3 lbs. chuck roast
• 5 potatoes cut into chunks
• 1 onion cut into chunks
• 4 carrots (optional)
• 2 Cups beef Stock or broth – low sodium
• 2 Cups water
• ½ tsp garlic powder
• ½ tsp onion powder
• ½ tsp Italian seasoning
• Salt & Pepper to taste
Instructions
Cut all of the potatoes and onions into large chunks. Using large chunks (about 2 inches square) makes sure they don't turn to mush in the crock pot.
Add the Roast to the crock pot, then the potatoes and onions and carrots (if used).
Add the seasonings over top.
Add the beef stock. The roast should be covered in liquid so add water until it is covered.
Depending on your crock pot and how fast it cooks will depend on the time. Mine is pretty hot so it took about 5 hours on high. (You will know it is done when you put a fork in it and it just falls apart.)
Once it is done remove the roast, potatoes, onions, and carrots from the crock pot and enjoy.
You can use the juice over your roast or you can make a gravy by putting it on the stove and bringing to a boil while whisking in flour to the desired texture.