I'm always looking for quick snacks to take along in my car as I frantically rush out the door.  (Yes, I am perpetually late despite my best effort to be on time- ex:  scouts is only 5 minutes away from my house, and I am always the last one to walk in, lol)
Protein balls and power bars are always a great option – but only after doing some research.  Many protein bars are loaded with sugar and have minimal protein in them to make it worth it.
These peanut butter protein bars are a takeoff of a recipe I found in Gimme Some Oven some time ago.  I've added in the Shakeo and reduced the Peanut Butter as I added in some PB2.
Give these a try ~  they are an awesome option for fast snacks to take in the car!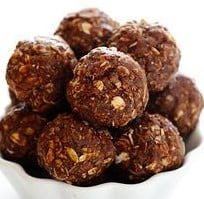 Peanut Butter Protein Balls
Delicious and packed with protein!
Ingredients
6 tablespoons PB2 (high protein powdered peanut butter - you can find it at GNC and Walmart
½ cup Natural Peanut Butter
½ cup Chocolate Shakeology
1 tablespoon unsweetened cocoa powder
1 cup dry quick oats
3 tablespoons raw honey
1 tsp. vanilla
¼ cup ground flax seed (optional)
Instructions
Combine PB2 with water until it is pasty.
Combine with all other ingredients.
Refrigerate mixture for 15 minutes to make it easier to handle.
Roll into 20-25 small balls.
Place in freezer until firm.
If too wet add extra oats. If too dry add more peanut butter.
To lower the calories and fat content increase the PB2 and decrease the Natural Peanut Butter.