This was a fast prepping dinner for us and heated up nicely for lunch the next day.  I love the combination of pineapples and peppers, and ginger is for sure one of my favorite spices.  Last week I didn't make them on the skewers, instead I grilled the chicken as a whole breast with the marinade on it instead of chopping it up.  I did chop up the pepper and onion and added them into a foil container with the pineapples and marinade and grilled it separately.  It seemed a bit faster than putting it altogether on the skewers…. and I'm all about time-saving.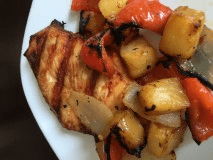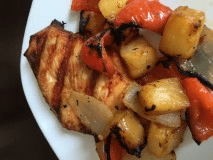 I grilled the pepper/pineapple/onion mixture a bit longer, too as I like the crispy grilled texture.  They cook rather quickly so watch them closely!
Enjoy~

Pineapple Chicken Skewers
Prep time:
Cook time:
Total time:
Pineapple chicken and peppers - a delicious and easy dinner to grill up in about a half hour.
Ingredients
8 bamboo skewers
1 lb. raw skinless, boneless chicken - cut into 16 1-inch pieces
¼ cup reduced-sodium tamari soy sauce, gluten-free
2 tsp. sesame oil
2 tsp. grated fresh ginger
1 8-oz can pineapple chunks in juice, drained
1 medium red bell pepper - cut into 16 1-inch chunks
½ large red onion, cut into 16 1-inch chunks
Instructions
Soak bamboo skewers in water for 30 minutes
Place chicken in resealable plastic bag (or container) add soy sauce, oil, and ginger; seal bag and shake gently to mix. Refrigerate at least 30 minutes to marinate.
Preheat gas or charcoal grill on medium heat.
Place a piece of chicken, pineapple chunk, bell pepper, and onion onto a skewer. Repeat, so the skewer has two pieces of each ingredient. Repeat with seven remaining skewers. Discard marinade that contained chicken.
Grill skewers on covered grill for 4-5 minutes on each side or until chicken is no longer pink in the middle.
Serve immediately.
Nutrition Information
Calories:
207
Fat:
5 g
Saturated fat:
1 g
Carbohydrates:
12 g
Sodium:
594 mg
Fiber:
1 g
Protein:
25 g
Cholesterol:
73 mg