I was waiting for the perfect time to give these chicken stuffed bell peppers a try… and tonight was THE night.  It was a rainy and dreary so these totally hit the spot.  Straight out of the Fixate Cookbook by Autumn Calabrese…. these stuffed peppers were simple to make and enjoyed by our whole family – although I did take a bit of the HEAT out for the kids.
FAST PREP time is a MUST for our family….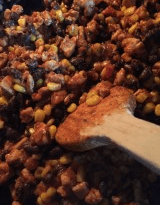 Between school, work, soccer practice, scouts, Q's shenanigans, and everything else on our "schedule" I have limited time to be standing in the kitchen cooking.  (nor do I want to spend a ton of time)  Took about 20 minutes to prep and 35 to bake.  My hubs and I like the SPICE so we added in a little hot sauce and some crushed red pepper flakes.  Also, instead of using Autumn's "Grandma's Tomato Sauce" I subbed out a can of crushed tomatoes and 1 can of tomato paste.  I also used the quinoa as a "side" instead of mixed in with chicken mixture.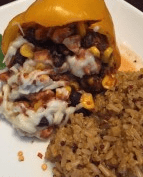 I'm thinking of using this same base recipe for some other "creations" as well… it's really important for us to use up our produce that is timing out so we aren't wasting food.  These peppers are perfect for that!
These were absolutely delicious – and very filling!  I'm thinking these will become a Readel family favorite during this coming fall season!

Chicken Stuffed Bell Peppers
These chicken stuffed bell peppers are delicious!
Ingredients
4 medium red (or yellow, orange or green) bell peppers, cut in half, seeds removed
2 tsp. olive oil
1 medium onion chopped
2 cloves garlic, finely chopped (I used garlic powder)
1½ lb. raw chicken breast, boneless, skinless, chopped into ¾-inch pieces
1 tsp. ground chili powder
1 tsp. ground cumin
¼ tsp. sea salt or Himalayan salt
¼ tsp. ground black pepper
1 cup Grandma's Tomato Sauce (or 1 can crushed tomatoes and 1 6-oz. can tomato paste)
2 cups cooked quinoa
1 can canned black beans, drained and rinsed
1 cup frozen corn kernels
5 tbsp. chopped fresh cilantro - reserve some for garnish
1 tbsp. fresh lime juice
1 cup Monterey jack cheese
Hot Pepper Sauce - optional
Instructions
Preheat oven to 375 F Degrees.
Place bell peppers, skin side down, in large baking dish; set aside.
Heat oil in large nonstick skillet over medium heat.
Add onion; cook, stirring frequently, for 4-5 minutes, or until onion is translucent.
Add garlic; cook, stirring frequently for 1 minute.
Add chicken, chili powder, cumin, salt, and pepper; cook, stirring frequently for 5 minutes or until chicken is no longer pink.
Add tomato sauce, quinoa, beans, corn, cilantro, and lime juice. Reduce heat to medium-low; cook, stirring occasionally for 3-5 minutes, or until heated through.
Add a heaping ½ cup of chicken mixture to each pepper half; cover lightly with foil.
Bake for 35 minutes, or until peppers are tender; remove foil.
Top each pepper evenly with cheese. Bake for 3 minutes, or until cheese is melted.
Serve sprinkled with cilantro and hot sauce. (if desired)